There is a full time (independant) silversmith on the premises! Bring in your broken jewelry: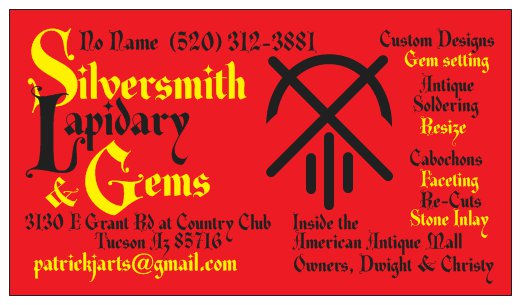 First of all, Patrick the silversmith is on-site and ready to help you with your repair needs. Secondly, Patrick has experience in all phases of repair. Also, he can perform everything from faceting a precious stone to making a simple solder. Most notably, Patrick also works extensively "behind the scenes" for several of the other established  jewelers in Tucson. Likewise, please come and see us, deal with Patrick directly, and cut out the middleman! Consequently, Patrick's cell phone number is (520) 312-3881.
Equally important, do you need a silversmith to size your ring? Above all, the silversmith can size your ring to a smaller or larger size. Most noteworthy, any silversmith must remove stones before they size your ring. Above all, stones can't take the heat of the jeweler's torch. In conclusion, It's time to take the tape off the shank and professionally size your ring.
In addition, he can convert your screw-back and clip-on earrings into post set earrings. Consequently, he removes the old clasp and solders on new posts. As a result, this conversion updates your old jewelry and makes it more usable! Certainly, it's time to show off Grandma's jewelry that has been sitting in the drawer.
Also, Patrick can repair or replace that hard to find piece of turquoise!
Furthermore, Patrick can also repair your bracelet with the broken or missing stones. Most notably, Patrick has access to many different gemstones, as well as and many varieties of turquoise. Consequently, we specialize in turquoise and have stones that can match both the color and matrix of your missing stone.
Our inventory includes turquoise from Arizona, Nevada, New Mexico, and beyond. Famous Arizona turquoise mines include Sleeping Beauty, Bisbee, Morenci, and Kingman. Kingman is the only working Turquoise mine in Arizona today.
Finally, Patrick regularly custom designs jewelry and has extensive experience at fabrication. Please bring us your own designs, or Patrick can help you with bringing your imagination to life! Especially relevant are the jewelry repairs you are in need of!
COME AND SEE PATRICK…DURING NORMAL AMERICAN ANTIQUE MALL BUSINESS HOURS ***Patrick is an independent contractor, working under the roof of the American Antique Mall. Consequently, he is not our employee.
Tucson Antique Mall 1993 – 2021 © Schannep Ventures L.L.C. ALL RIGHTS RESERVED